Our Story
Brooklyn Flooring was launched in October 2018 by childhood friends Kane Kearns & Joe Prendergast as a sister company to the Dublin market leader Hamptons Floor Store. The mission was to build upon the hugely successful online-focus set in place by Hamptons and modernise the Irish flooring market further by offering 48-hour installations and making the customers online shopping experience more hassle free than ever.
Both companies are able to offer this quick installation turnaround due to the relationships we have built up with our contractors and suppliers; giving us a keen advantage over competitors who cannot offer this service. The relationship we have fostered with our suppliers means we are guaranteed products from them as quickly as we need them; similarly, our contracters are committed to our companies because of the huge amount of work we consistently make available to them.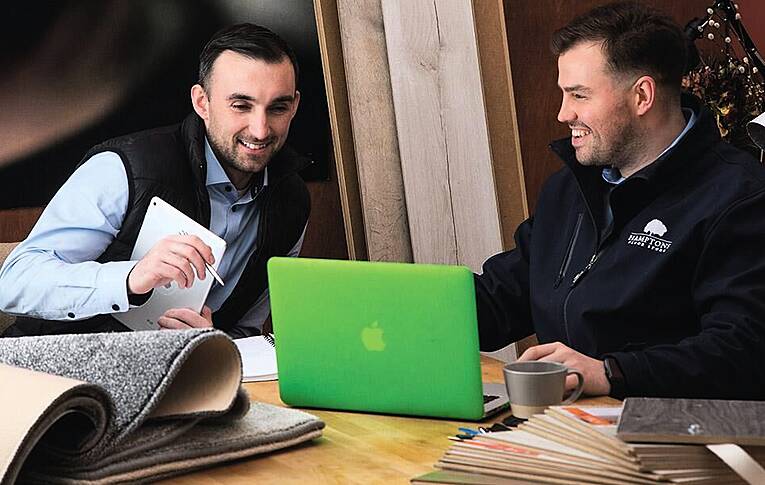 Kane Kearns & Joe Prendergast
Hamptons has a strong focus on customer service and efficiency when it comes to purchasing floors with a large focus on residential homes and new housing estates in the Dublin and outer Dublin regions. Brooklyn Flooring shares this service on residential dwellings, but also has a concentrated focus on commercial contracts in the Dublin & greater Dublin regions and we are currently working on some of the biggest commercial developments ongoing at the moment.
Since opening in 2014 Hamptons Floor Store has striven to make customer service their main focus, before, during and after fitting, and they are now the most recommended Carpet & Flooring shop in Ireland; which they are immensely proud of. We are now delighted to announce that Brooklyn Flooring is a close second. In the short time since forming in October 2018, Brooklyn has become not only the fastest growing Flooring company in Dublin but also the most innovative, with the recent launch of our Smart Buyer. Shopping for flooring & carpet online has never been so easy! Check it out here. 
As of January 2020, Brooklyn Flooring are delighted to announce that we have come on board as sponsors and official club partners of Shelbourne FC.
We are also incredibly excited to announce we have partnered with Ireland's largest department store Arnotts to be the face of Arnotts new flooring department and showroom! Come visit our team.